June 1, 2022
Looking for the right marketing resources? There's an eKit for that!
Bookmark these eKits for easy access to powerful marketing tools.
eKits are a great tool to have at your fingertips for specific products or concepts and feature a variety of marketing materials, such as emails, fliers, brochures, and more.
Many eKits are available on the Agent Portal, but it's recommended for you to bookmark those you use often for easy access.
IUL Storybook
Bedtime stories to help showcase Indexed Universal Life Insurance's greatest features.

ABR Puzzle
Tools to help you vet your client's goals and offer solutions.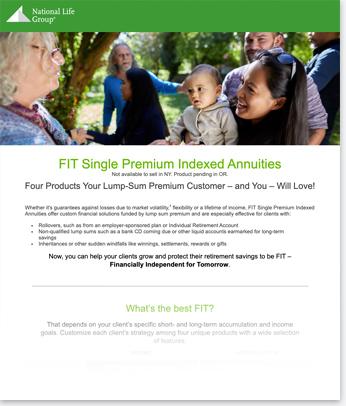 FIT Single Premium Indexed Annuities
FIT Single Premium Indexed Annuities offer custom financial solutions funded by lump sum premium.

FIT Flexible Premium Indexed Annuities
The FIT FIT Flexible Premium Indexed Annuities let you choose from two flexible premium indexed annuities to customize a strategy for each client.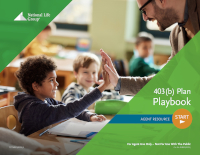 403(b) Playbook
Your resource to the many opportunities in the 403(b) plan market.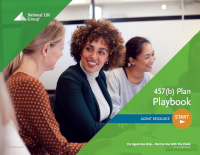 457(b) Playbook
This Playbook is your roadmap to the many opportunities in the 457(b) plan market.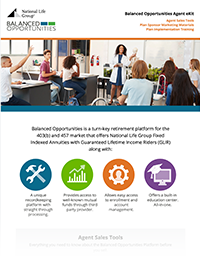 Balanced Opportunities Platform
Balanced Opportunities is a turn-key retirement platform for the 403(b) and 457 market that offers National Life Group Fixed Indexed Annuities with Guaranteed Lifetime Income Riders (GLIR)
Exclusive to the Educator Market
LifeChanger
A unique opportunity to recognize individuals who make an impact on children and to establish and maintain relationships in the community you work in.

Prizes for Pages
Use the Prizes for Pages program to build relationships in school districts by promoting and rewarding literacy!

[/bs_col] [/bs_row]
Executive Bonus Playbook
Executive bonus plans offer several advantages to both the employer and the employee.

Qualified Plans Playbook
Offer solutions to business owners.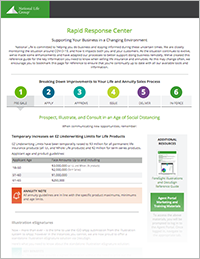 Rapid Response Center
Supporting your business in a changing environment.

eApp
See how eApp reduces the need for follow-up questions and forms and creates a smoother process.

Customer Mobile App and Registration eKit
Save yourself time in the long run by encouraging your customers to use the Customer Mobile App.

Recruit for Success – Independent
We're here to help recruit and retain top talent.

Recruiting – Affiliated
Recruit, retain and repeat with this recruiting guide.

Onboarding – Independent
Access these training modules 24/7.
Onboarding – Career
Access these training modules 24/7.